Last reviewed on 18 March 2021
Many people are finding life quite challenging because of coronavirus but if you're also experiencing bullying, things might be particularly hard. Whether you're being bullied online (often called cyberbullying) or at school, you might feel confused, scared and not know how to get help. Some young people are even being bullied because of the virus – for example, if someone in their family is ill or because of racial discrimination.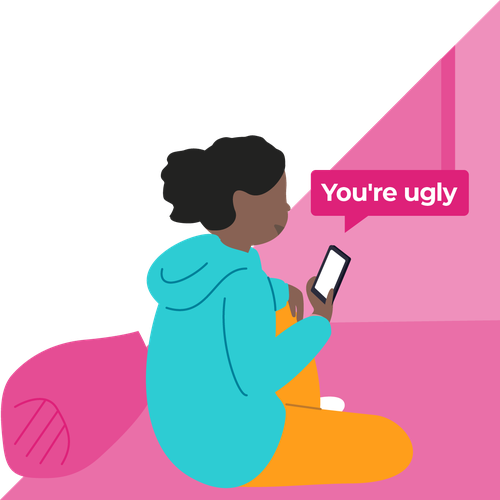 At this time more than ever, it's a good idea to remember that kindness goes a long way and that it's never acceptable to be a bully. Even if someone is feeling frustrated about COVID-19, they shouldn't take it out on other people by posting nasty comments on social media, for example. As you might be online more than usual at the moment, it's particularly important that you look after yourself and look out for your friends.
Check out the BBC Own It app and Childline's advice about online and mobile safety. Listen to Good Thinking's podcasts about bullying, online safety and healthy screen/life balance and read our #AntiBullyingWeek article. We also recommend checking out the free Clear Fear, Feeling Good Teens and Move Mood apps on Good Thinking.
---
If you are being bullied, the Anti-Bullying Alliance recommends that you do these six things:
1. Tell someone you trust
Could you talk to one of your parents? Have a chat with your brother or sister or call one of your friends? Or confide in one of your teachers? (even if you're not at school, you should still be able to contact them). There are lots of people who can support you and you'll hopefully feel much better once you've told them. If you'd rather speak to someone you don't know, call Childline on 0800 1111 or visit the Childline website.
2. Keep a record of what's happening
Write down what happened, when it happened, who bullied you, who saw it happen and how it made you feel. If you're being bullied online, take screen shots of any texts, emails or social media posts and save any photos or videos. Records of any bullying incidents will be really useful if you decide to report the bully to your school, a social media provider or the police.
3. Don't retaliate
When someone's being nasty to you, it can be really tempting to behave the same way. On social media, you might even find that other people are pressuring you to behave in ways you wouldn't normally. The best thing to do is to take a step back – don't respond or retaliate. Stay calm and tell someone you trust so that they can support you. If you see someone else being bullied, it's OK to stick up for them but don't get drawn into any bullying behaviour yourself.
4. Surround yourself with people who make you feel good
Friends, girlfriends and boyfriends should always have your back. If someone is bullying you, it's time to move on. At the moment, you might not be going to school and you might only be able to see your friends online and talk on the phone. It's a great opportunity to really focus on the people who make you laugh and who make you feel safe.
5. Don't blame yourself – it is NOT your fault
There are many reasons why someone bullies someone else. They might have things going on at home that make them feel sad or they might have been bullied themselves, for example. If you're being bullied about coronavirus, it might be because the bully doesn't fully understand the situation or is feeling scared about the virus. Just remember, it is never your fault that you're being bullied.
6. Be proud of who you are
Don't let anyone bring you down. We're all unique so do what makes you happy and enjoy your life. While you're at home during the coronavirus outbreak, you might have more time for your hobbies and interests or you could even start doing something new. Stay positive and be proud!
---
If you're concerned for your safety – for example, if you are experiencing physical, emotional or sexual abuse or if a stranger has contacted you online and is pressuring you into doing something you don't want to do – tell someone you trust or call Childline on 0800 1111. Visit the Childline and Thinkuknow websites for further information and support.
Useful websites
My Mind TV (Building Confidence After Online Bullying video)
The Diana Award – Antibullyingpro