Last reviewed on 8 November 2021
Is someone picking on you or spreading rumours at school? Are you receiving nasty comments on your social channels? Have you been teased or harassed in the street? Unfortunately, you're not alone. According to a 2020 survey by the Anti-Bullying Alliance, a third of 11 to 16-year-olds in England said they had been bullied over the last six months.
Bullying can happen in lots of ways. You might be bullied because of your race, sexual identity or something else. The bullying might be verbal or physical. It might happen online (cyberbullying) or in person. There might be one individual bullying you or a group of people. Whatever your situation, it's important that you know what action you can take and how to look after yourself.
We know it can sometimes be difficult to tell when a joke or banter tips over into something more serious so you might find this definition of bullying helpful: "Bullying is the repetitive, intentional hurting of one person or group by another person or group, where the relationship involves an imbalance of power. It can happen face to face or online."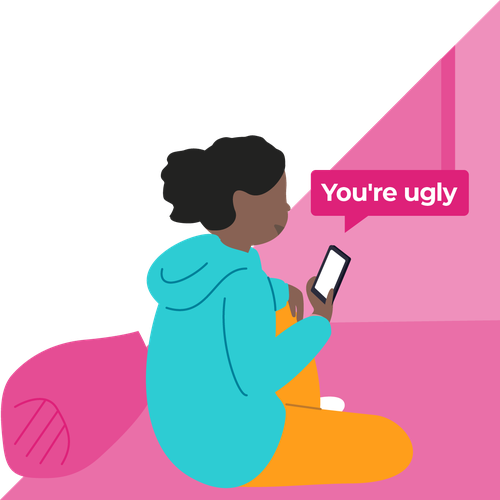 As London's digital mental wellbeing service, Good Thinking is here to help if you're feeling sad, scared or stressed out because of bullying. We've put together these tips to mark #AntiBullyingWeek 2021 (15-19 November), the theme of which is 'One Kind Word'. We also recommend checking out the free Clear Fear, Feeling Good Teens and Move Mood apps to help build your self-esteem and resilience and you might like to listen to our podcast about bullying with Alex Holmes of The Diana Award and actor Will Poulter who is currently preparing for his Marvel superhero role in Guardians of the Galaxy Vol. 3.
At this time more than ever, it's a good idea to remember that kindness goes a long way and that it's never acceptable to be a bully. As the Anti-Bullying Alliance says, "One Kind Word can be a turning point. It can change someone's perspective. It can change their day. It can change the course of a conversation and break the cycle of bullying. Best of all, one kind word leads to another. Kindness fuels kindness. We can all play a part in a chain reaction that powers positivity."
If you're being bullied, we hope you find the tips below helpful (they are based on advice from experts at the Anti-Bullying Alliance). If you're concerned for your safety (e.g. if you're experiencing physical, emotional or sexual abuse), tell someone you trust or call Childline on 0800 1111.
Find out how you can support #AntiBullyingWeek by saying 'one kind word' to someone you know or getting involved on TikTok or other social channels.
---